read
2015 has been an up-and-down year for the price of Bitcoin and other digital currencies. Bitcoin started at $313 and quickly dropped to nearly $200 then bounced between $210 and $300 till the end of Oct. A resurgence put it up to $450 for the end of year.
Anyone that sold or spent coins in 2015 probably could go either way between seeing gains or losses.
Trading across multiple exchanges makes it very difficult to track cost basis and capital gains. Fortunately, we can help. BitcoinTaxes is the longest-running and most sophisticated taxes calculator for digital currencies.
BitcoinTaxes can help you calculate your capital gains and income taxes, by: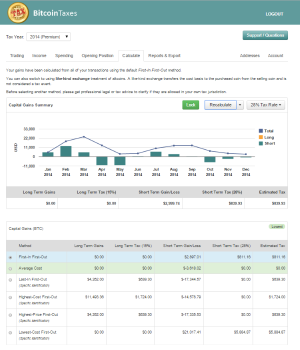 Importing direct from 18 leading digital-currency trading exchanges or a generic import.
Consolidating spending from Core, Blockchain and Coinbase wallets.
Adding income from BitPay, Coinbase and CEX.IO sources.
Calculating mining income from payout addresses for BTC, LTC, DOGE and NMC.
Support for world fiat currencies and exchange rates, including USD, EUR, GBP, CAD, AUS, RUR, BRL, CNY, JPY, CHF, HKD, RUB, ILS.
View and compare multiple cost-basis methods, including First-In-First-Out, Last-In-First-Out, Average Costing, Lowest-Cost, Highest-Cost and also "like-kind" treatment.
Blockchain transaction viewer for addresses to allocate to spending, income or transfers.
Downloadable reports for capital gains, income, gifts and closing balances.
Direct exports into US tax software, TurboTax® and TaxACT®.
Completed IRS Form 8949 PDF or attachable 8949 statement for Schedule D.
BitcoinTaxes is available for personal use and is free up to 100 transactions. An unlimited premium version is available for $19.95 per tax year, payable by card or Bitcoin.
Tax professionals and accountants can also make use of BitcoinTaxes for their own clients with our unlimited-client Professional package, for $149 per year.
---
If you need more information, check out our series on Filing your Bitcoin Taxes.
BitcoinTaxes is the best tool for calculating capital gains taxes and income for Bitcoin and all digital currencies. Click here to get started.